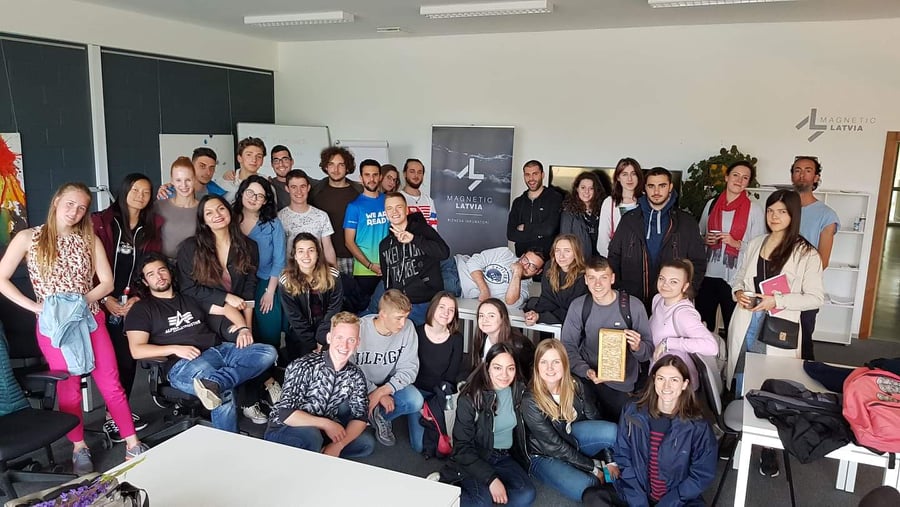 Pavlos, Katerina, Stratos, Thanos, Elena and Katerina were the youngsters who traveled to Valmiera in Latvia, in order to take part and represent our organization in the Youth Exchange project titled "B2B: Business to Business" . The project took place from the 22nd until the 29th of May 2019 and was organized by the NGO "Latvian Association for Youth Activists" , in the framework of Eramsus+, under the aegis of the European Commission.
For all of young people who participated it was a unique opportunity and below you can read their thoughts and experiences! 
Authoritatively coordinate inexpensive bandwidth and maintainable total linkage. Quickly synthesize standardized models through competitive networks.
Imagine this: A forest, small wooden made huts to live inside, 30 youngsters from different countries and a whole week ahead. What can possibly go wrong? And so, it happened. The Erasmus + program Business to business was exactly the above. From fruitful dialogues to constructive activities, 30 young people, each with their on passion and pursuit, combined their powers and made the week unforgettable and profitable. Cultures, beliefs, traditions. This particular week had it all. In our modern times, business is an area where few people actually get the chance to participate in. Throughout the program, these youngsters learnt how to communicate, negotiate, and most importantly, how to execute a business plan. This was only the beginning.
Pavlos Addimando
It has been some weeks since we returned from beautiful Valmiera, Latvia but the experience and the memories we collected there are still alive. Besides the fact that we got more familiar with the concept of entrepreneurship and social businesses, we got close to people from 6 different countries. After spending eight days of training and hard work we, the participants, managed to promote our common goals and by using our backgrounds, our creativity and our innovative spirit we managed to develop not only business plans, but also ourselves. Moreover, we found ways to solve work problems, worked within a budget and most importantly shared our experience in an international group.
Κaterina Manika
The youth exchange in Latvia was an experience that taught us a lot about entrepreneurship and how to work with young people. Through energizers and team building activities we learned a lot about the different cultures and people involved in the exchange from 6 different countries. Also, team formation and pitching of ideas helped us to use our creativity and think of innovative business plans to form successful enterprises.
Stratos Rigas
The project was cool, I liked the idea of being alone in the forest as that made us, the participants, feel like a small community and get to know each other better. The workshops were very interesting!  At first, I was afraid that because of the theme, the sessions would have a lot of theory and we would be bored but instead, we had a lot of role-plays other creative ideas that kept us focused on the project the whole time. The accommodation and food were fine too.  This was an experience I won't easily forget!
Thanos Karaiskos
On the 22nd of May a journey started in the Latvian forest. Before I went there, I had many thoughts and fears about this trip, but eventually these thoughts and fears turned into sweet memories and ambitions. The whole experience within this environment, the people and the topic of the exchange, altogether make one of the best experiences of my life. As for my social development, I've learned about 5 different cultures, not only as for their traditions but also as for the personalities of the people who represent them and the ways that culture has an effect on them. As for my academic development, I found the topic to be very interesting to me. Entrepreneurship drives my way of thinking, not only by helping me to be creative, but also by showing me how to be profitably creative. So here's a big thank you to all of the people of the exchange and Erasmus+ program for the opportunity.
Elena Hini
Putting a 7-day experience into words doesn't seem to be that difficult, right? Trust me though, it can be, and that's exactly the case with the 'B2B' Erasmus+ program in Valmiera, Latvia. These days were fulfilling from every aspect. Coming from 6 different countries, the interaction that we developed with each other through our daily sessions and tasks helped as become internationally aware of the business circumstances and environments.  Coming from 30 different backgrounds, we managed to fight stereotypes and in the meantime share our common concerns as well as future plans and dreams. I hope that the spark that got into all of us will lead into a bigger pursuit of our personal growth and that the friendships we made will last as long as our memories. Thank you EnoGreece and LAYA for this chance!
Katerina Krypotou